CUT&STYLE is an up-and-coming salon franchise that offers a luxurious and sophisticated experience at affordable prices. The interiors are designed to provide maximum comfort, and the products used are of the highest quality. Our team is delighted to extend an invitation to indulge you in an unparalleled experience that will leave you feeling pampered, rejuvenated, and refreshed like never before.
Cut&Style's organisational structure provides complete assistance and guidance to its franchises in marketing, operations, accounting, and other areas, ensuring flawless execution and fostering a long-term partnership.
Misson
India• since • 2002
Mission
At the core of our values lies the desire to elevate and inspire individuals to embrace their inner and outer beauty. Our unwavering commitment to promoting wellness and enhancing your natural radiance is what sets us apart. We believe that true beauty comes from within, and we strive to empower you to feel comfortable in your own skin.
Vision
India • since • 2000
Vision
Our vision is to boost and inspire the beauty and wellness of individuals, creating a sense of luxurious elegance that radiates from the inside out.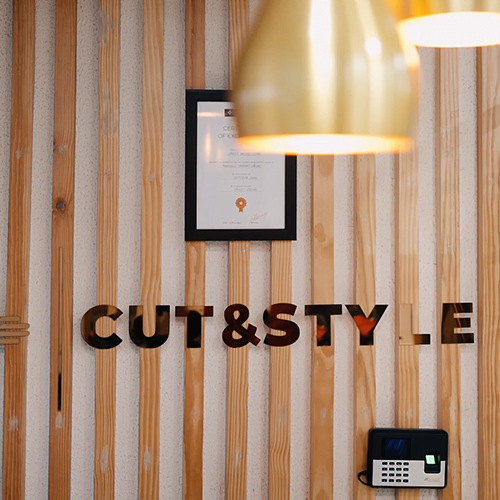 PHILOSOPHY OF MOKSHA WELLNESS
CUT&STYLE's directors, Mr. Dinesh Sharma and Mr. Rajesh Yadav, began their inspiring and motivating entrepreneurial journey in Gurugram, Haryana, on February 28, 2000, with a mission to revolutionise the beauty and wellness industry. The brand's inception was guided by four core principles, symbolised by its logo. The four rays, evenly spaced, symbolise a robust physique, a sharp intellect, a pristine soul, and a duty to serve humanity. 
Experience exquisite beauty and wellness services from our expertly trained professionals. Our outlets boast luxurious interiors and offer a serene ambiance to soothe your soul. In just 23 years, our brand has achieved remarkable growth, becoming one of the fastest salon chains with 100+ locations in 20 cities. We're proud to have earned the trust of our clients.
Mr. Dinesh Sharma
Co-Founder
Mr. Rajesh Yadav
Co-Founder
Mr. Aditya Sharma
CEO